Singh, Sasha A.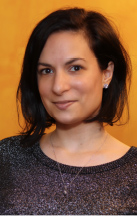 Assistant Professor of Medicine, Harvard Medical School;
Associate Scientist, Brigham and Women's Hospital;

Director of Proteomics Research, CICS
Dr. Sasha Singh completed her MSc (Developmental Genetics, 2001) and PhD (Biochemistry/Protein Crystallography, 2007) degrees in the Department of Cell and Systems Biology at the University of Toronto (2007). She then joined the labs of Steen and Steen at Children's Hospital Boston /Harvard Medical School to complete her post-doctoral studies in mass spectrometry guided research. During this time, she was involved in several projects ranging from high throughput proteomics' screens to detailed studies on protein posttranslational modifications, as they related to cell cycle/cancer and a number of neurological disorders. She also developed FLEXIQuant, a practical and useful workflow for implementing full-length protein mass spectrometry standards, which in turn developed into a novel in vitro kinase assay, also known as, FLEXIQinase.
Dr. Singh joined the Center for Interdisciplinary Cardiovascular Sciences in 2012. She is very enthusiastic about designing and implementing qualitative and quantitative mass spectrometry guided experiments into the research interests of the center, including developing basic research and target discovery platforms aimed at understanding and tackling cardiovascular diseases.
Publications
Show