Our History and Mission
The Center for Interdisciplinary Cardiovascular Sciences (CICS) was established in 2009 by a collaboration agreement between the Brigham and Women's Hospital (Boston, MA) and Kowa Company, Ltd. (Tokyo, Japan).
The goals of CICS are to promote better understanding of the mechanisms of cardiovascular inflammation and cardiometabolic disorders and to enhance further advancement in cardiovascular prevention and therapy through a translational research program that consists of investigators from academia and industry with multidisciplinary backgrounds acting in concert in a shared space.
Featured Scientist
Dr. Shinsuke Ito
Dr. Shinsuke Ito joined CICS in 2014 as a research fellow in Dr. Elena Aikawa's Vascular Biology and Calcification Research Group. Shinsuke received his Bachelor's Degree in Chemistry in 2001, and his Master's Degree in Medical Sciences 2003 at Osaka University. His graduate research encompassed the fields of biochemistry, molecular biology and cell biology. Upon graduation, Shinsuke started his research career at the pharmaceutical division of Kowa Company, Ltd. While he pursued his career, he earned PhD in Medical Sciences at the University of Tokyo, focusing on diabetes-related research. Representing Kowa, Shinsuke joined the team at CICS in 2014 to research cardiovascular calcification, a cardiovascular disease risk. His primary molecule of interest is sortilin. He demonstrated that dimerization of sortilin regulates its trafficking to extracellular vesicles. This work has been published in the Journal of Biological Chemistry. In his spare time, Shinsuke participates in many physical activities including running in marathons and playing on the CICS ice hockey team.
News
2018-01-31:
Dr. Elena Aikawa 's First Look Arcicles is on the BWH Bridges, Partners Innovation Blog.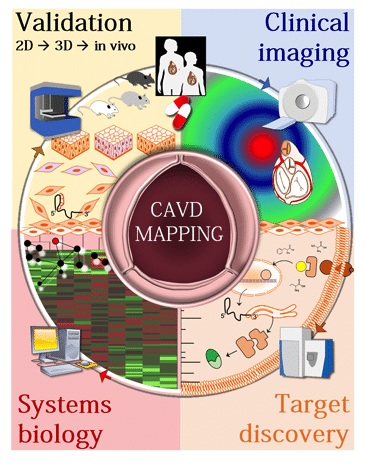 2017-12-06:
We had Ana and Aline's farewell. Good luck with your school, Ana and Aline!
2017-05-16:
Masanori Aikawa,MD, Ph.D moderated at World Medical Innovation Forum 2017, the Special Focus Session "Japan Today". Here is a link to the Japan session on this YouTube channel.
(Past News)