Aikawa, Masanori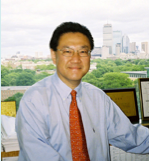 Yoshihiro Miwa Associate Chair & Founding Director,

Center for Interdisciplinary Cardiovascular Sciences, Brigham and Women's Hospital;

Professor of Medicine, Harvard Medical School
Dr. Masanori Aikawa serves as Director of the Center for Interdisciplinary Cardiovascular Sciences (CICS) at the Brigham and Women's Hospital (BWH). He trained as a cardiologist in Japan and has worked at BWH and Harvard Medical School since 1995. His research interests include the pathogenesis of atherosclerosis and metabolic disorders, macrophage biology, and the pro-inflammatory role of dyslipidemia. Dr. Aikawa's studies, documented in over 100 articles, received worldwide recognition and spurred lectureship initiations and opportunities to serve as a reviewer for research grants and reports. He is an editorial board member for several major medical journals, including Circulation, Circulation Research, Arteriosclerosis Thrombosis and Vascular. Biology, and PLOS ONE. He is International Associate Editor for Circluation Journal the Japanese Circulation Society. He is also co-Chief Editor of Frontiers in Cardiovascular Medicine. Dr. Aikawa also serves as Chair of the Development Committee of the North American Vascular Biology Organization (NAVBO).
He is a member of the Organizing Committee and chairs the Sponsorship Committee of the
International Vascular Biology Meeting 2016 (IVBM2016)
.
Dr. Aikawa has received many awards and honors, including Yagi Award from the Japanese Circulation Society, Young Investigator Award for the Distinguished Atherosclerosis Research from the Japan Atherosclerosis Society, and the Fifth Trucker Collins Lectureship at Harvard Medical School's Vascular Biology Seminar Series. In November 2013, he received the Special Recognition Award in Vascular Biology from the Arteriosclerosis and Vascular Biology Council of the American Heart Association
Dr. Aikawa's ultimate goal is to translate basic research findings into clinical practice through multidisciplinary efforts. His role as Founding Director of CICS represents this goal, where explorations for new therapeutic targets for cardiometabolic diseases are carried out in transpacific collaboration with Kowa Company, Ltd. a Japanese pharmaceutical company. While he has established a now model of the academia – industry collaboration, Dr. Aikawa continues his pre-existing research laboratory in the, Center for Excellence in Vascular Biology at BWH primarily supported by grants from the National Institutes of Health and the American Heart Association, where he studies novel triggering mechanisms of macrophage activation in the contexts of atherosclerosis and metabolic disorders.
After his clinical training at Juntendo University School of Medicine, Tokyo, Japan, Dr. Aikawa began his initial research at the University of Tokyo under the supervision of Dr. Ryozo Nagai. This research led to the cloning of human smooth muscle and non-muscle myosin heavy chain isoforms (SM1, SM2, and SMemb/MHC-B). Using these molecules as markers of differentiation, his studies demonstrated diversity of SMC phenotype in developing human arteries and during progression of atherosclerosis and restenosis. For this work, he received several awards.
Dr. Aikawa's earlier studies as Research Fellow at the Peter Libby laboratory in BWH used rabbit models to establish that cholesterol lowering by either diet or statins improves various features typical of so-called "vulnerable" atherosclerotic plaque prone to rupture and clinical complications (e.g., reduction of macrophage accumulation, MMP expression, and tissue factor activity). Through a series of rabbit studies, Drs. Libby and Aikawa pioneered the concept that lipid lowering is an anti-inflammatory therapy, providing molecular bases for the observed beneficial outcomes of statin mega trials.
As a faculty member, Dr. Aikawa extended his research interest in the role of macrophages in atherogenesis by testing the hypothesis that MMP-collagenases regulate collagen accumulation. Three studies employed genetically altered mouse strains to establish the first direct in vivo evidence of the role of collagenases in arterial collagen architecture.
Over the past several years, Dr. Aikawa's laboratory has explored new mechanisms that trigger macrophage activation, including the Delta like 4-Notch axis, the Akt/β catenin pathway, and the pro-inflammatory action of apolipoprotein CIII. His studies aim to address the role of macrophage activation in atherosclerosis, obesity, insulin resistance, and fatty liver. His laboratory uses various approaches in vitro and in vivo, including macrophage-selective knockout and transgenic mice and molecular imaging of atherosclerotic plaque macrophages. In 2009, CICS was launched at BWH in collaboration with Kowa.
Publications
Show