Aikawa, Elena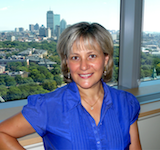 Director, Vascular Biology Program;
Director, Heart Valve Translational Research Program (HVTRP), BWH;
Associate Head, Section of Life Science, Cardiovascular Medicine;
Associate Professor of Medicine, Harvard Medical School
Dr. Elena Aikawa is an Associate Professor of Medicine at Harvard Medical School and a Principle Investigator at the Center for Excellence in Vascular Biology. Dr. Aikawa also serves as a Director of the Vascular Biology Program at the Center for Interdisciplinary Sciences as well as a Director of the Heart Valve Translational Research Program (HVTRP) at Brigham and Women's Hospital, Boston, MA, USA. Dr. Aikawa has played a pioneering role in the discovery of inflammation-dependent mechanisms of calcification, and in advocacy for the early imaging and treatment of calcific aortic valve disease. Her current research aim is to develop new therapies to cure calcific aortic valve stenosis, a disease that currently has no treatment except surgical valve replacement.
Dr. Aikawa is a member of the National Heart, Lung, and Blood Institute (NHLBI) Working Group on Calcific Aortic Valve Stenosis and the Alliance of Investigators on Calcific Aortic Valve Disease. She is an Editorial Board Member of Arteriosclerosis, Thrombosis and Vascular Biology, PLoS ONE, Journal of Extracellular Vesicles, and Circulation Research. Dr. Aikawa has delivered over 140 keynote lectures, invited talks and cardiovascular grand rounds, and authored more than 200 manuscripts on cardiovascular pathobiology.
In addition to her strong interest in research, she also enjoys educating and mentoring young scientists. Throughout her career, she has trained a number of research fellows, medical and PhD students. Dr. Aikawa is also committed to advancing the careers of women in science and medicine. She cofounded the Brigham and Women's Hospital Committee for Internationally Trained Women Faculty in 2004 and founded the annual Women in Science and Medicine Symposium at Brigham and Women's Hospital in 2012. She is a member of Women's Leadership Committee of Council on Atherosclerosis, Thrombosis, and Vascular Biology, American Heart Association.
Publications
Show